Una Milonguera has a nice post about what (most I would risk) people are looking for in tango: El Abrazo perfecto. The perfect embrace (click here for the google translation from spanish).
Somehow this echoed back into my personal life, non-tango related. Well, we actually had some tango lessons together… I've had the experience of the perfect embrace. The non-tango one that is. This cartoon describes a bit what it was like and the last bit how I felt about it for a while. It's over and I've moved on (or so I want to convince myself):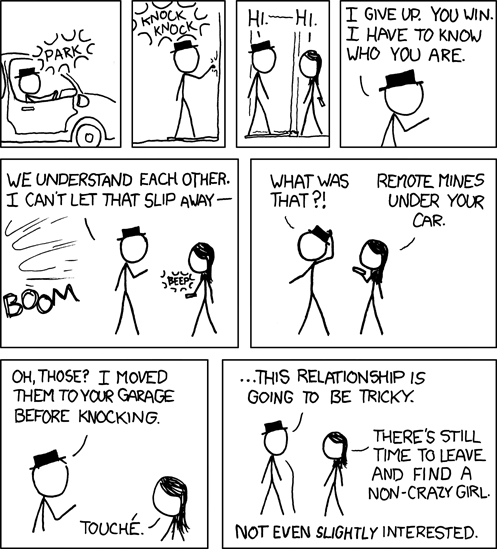 But I fully understand and realize what the original post is about. It's that special connection, that moment when you embrace someone and everything around you disappears and there's no more steps/moves/thoughts. There's a flow. A perfect flow, pressure free of having to show off or remember to stay straight. I haven't had had un abraco perfecto right at the beginning of the music. I've had embraces that build and reveal themselves over a tanda. A couple were memorable. I still remember them.
The most profound aspect of the post though is how you can make parallels between the embrace psyche in tango and with everyone's life in general. I know there's no meaning to life besides Tango but we also love. Deeply. Inside and outside Tango's walls. The hope of the perfect tanda embrace keeps us going back and back just like we go back to find that someone special after we fail. We all know that it is out there waiting to be savored. We've all had glimpses of it. We feed off glimpses, maybes and the concept of the existence of the perfect union between two human beings. Embraced.
Un grande abrazo para vos.